I've now got a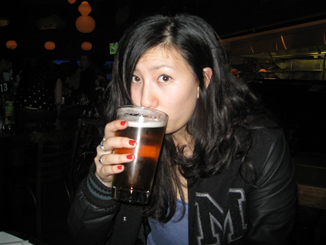 backlog of photos from the three birthdays I've been bombarded with over the past couple of days, but I now doubt that any of them will ever see the light of day unless I get very, very bored whilst on holiday. There are so many things clogging my mind that I don't know where to start – but in exactly 7 days' time all my jazz assessments will be OVER, signaling the end of my first year of university. I have mixed feelings about this, because I've just been so mentally drained and distracted this year that I'm not doing anywhere near as well as I would have liked – which is why I'm really looking forward to summer when I can recuperate and catch up.
Completely irrelevantly, something that's crossed my mind several times in female bathrooms: everyone except for me and members of my family use the hand dryer. I've never used it because my mum brought me up telling me "so you've just washed your hands with soap, now why would you want to blow a bunch of germs back onto your hands?!" and taught me to find the least-touched parts of toilet door handles, etc. I'm not too sure about the whole "you're attaining germs by using the hand dryer" idea, but it's just been such a habit. Plus, those things are damn loud and I don't like the idea of having hot air blown onto me anyway – but people always look at me funny when I just shake my hands dry or something. It's just one of those things that I think is definitely nurture over nature; such as my thing for beer and whiskeys, and disliking sweeter alcoholic drinks.
Photo is from Lottie's birthday dinner last week. The giant burger and that beer made me very, very full. Bloated, even. Urghh.
As for the thing about the twist. Maybe I'll write a song about it. I've got all this stuff bottled up I need to write into proper songs, rather than just little snippets of ideas. Those are awfully frustrating and get locked in notebooks and see the occasional scrawl and smeared black ink. Romance lives on too bleakly when only expressed on paper.