April 30th, 2012 — 1:11am
I've still got a handful of handmade invitations to distribute (mostly to friends who are studying overseas and have not arrived back yet), but after that it will be mission complete for phase-one of 21st birthday party planning! I'm going to avoid going into how scary it is to turn twenty one as much as I can – but it just seems like it's the last pretend-barrier between me and supposed "real adulthood". The thing that I've discovered to be surprisingly daunting yet somewhat enjoyable about the whole party-planning experience is the fact that this is possibly the most narcissistic thing I've ever done. And it will probably remain so, until some miraculous day when I get hynotised into thinking that getting married is a good idea, haha. For the time being, I've just been absolutely thrilled that everyone who has received an invitation seems to really appreciate the sentiment, and think that they look lovely. It now feels absolutely worth the painstaking hours spent hand-making and handwriting them all.
This whole process of creating a guest list has been somewhat nostalgic. Whilst I've invited a lot of middle-ground friends who have darted in and out of my life for most of my adolescent-to-adulthood years, it's also caused me to put in quite a bit of effort with catching up with people. During the mid-semester break a couple of weeks ago, and even during class breaks last week, I made sure that I tried to see as many of my friends that I hadn't seen in a while, and to try to deliver as many invitations in person as I could. I had the most lovely lunch-turned-int0-afternoon catchup with my old piano teacher (who has the same birthday as me), who had taught me for about eight of the past ten years, and it felt just like old times again, chatting about everything music and beyond – minus the piano lesson. I'm also looking forward to catching up with another influential figure who helped me out a lot when I was younger – hopefully this will actually go ahead in a couple of days' time. I really want to make sure that everyone who has influenced me in a significant way will know how important they've been to me – and hopefully they will be able to attend and enjoy the evening with me. I've also committed a faux pas in not allowing "plus one"s, except for couples whom I'm friends with both people and have invited them together. This is firstly due to the venue having a strict people limit (for fire hazard reasons, etc), and secondly because I don't want my birthday party to yet again turn into "just another party" where the host hardly knows half of the 'partners' there, and so on. It might sound harsh at first, but I'm sure my friends all understand.
The biggest headache I've got with regards to party planning has got to be the food. I don't even want to go into it… That, and scanning childhood photos for a slideshow on the two TV screens at the venue. I simply can't pick! And it's going to take me absolutely forever to scan them all. I need to acquaint my mother with scanning…
And here is Flakey, who was a cute feet-warmer last night and caused me to sleep rather lopsidedly because I didn't want to kick him! For a while last month Daniel's beer box hadn't quite made it into the recycling bin and was just floating around by our backdoor… Flakey decided to be a bit of a (cute) hobo, haha: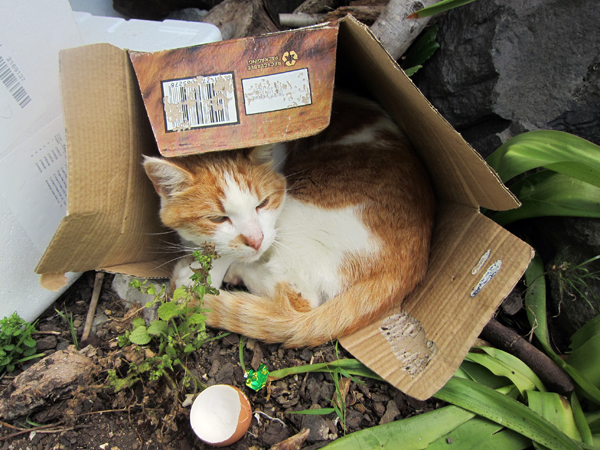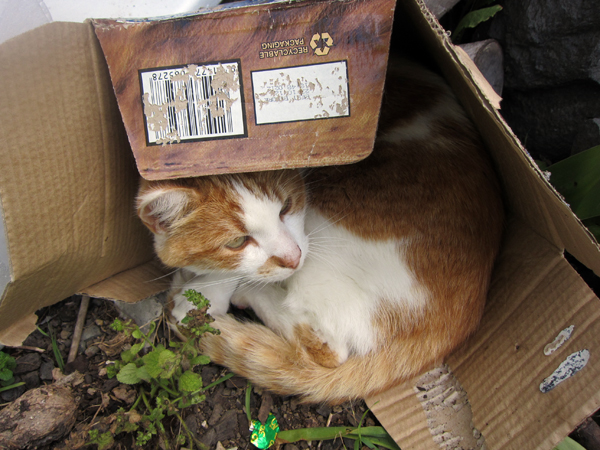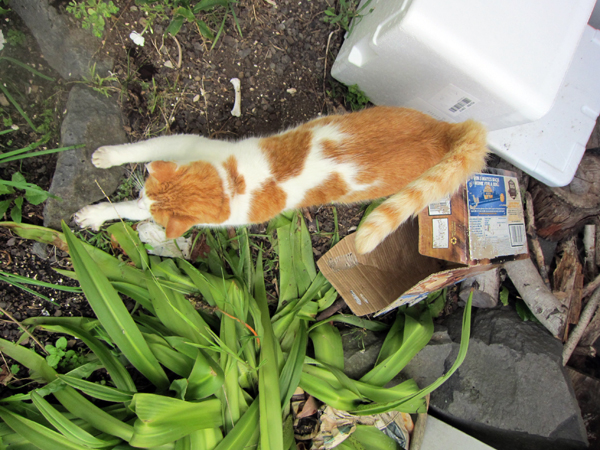 3 comments » | Emotions, General, Photography, Rants, Raves, Reflections, Social