The last time I had my hands on a waterproof camera was on a school snorkeling trip about 7 years ago, so needless to say, when I discovered that my friend Jason's digital camera was waterproof, I was beyond ecstatic. Today we had our hockey team swim/barbecue night at Jase and Sam's house, but most people had work during the day and didn't make it until dinner time. The weather's been overcast and raining for most of the week now, but just as it didn't deter us from playing hockey (and winning the huge meat pack that we ate tonight!), it didn't deter us from leaping into their pool. I discovered today that I look really retarded underwater, and as usual, I'm the one with the red nails pulling faces, haha:

It was a shame that a few people on our team couldn't make it, because we ended up having difficulty finishing the food. The end of the recession must have dawned upon us – or at least the hockey department of things – because our meat pack prize was at least twice as big as last year's!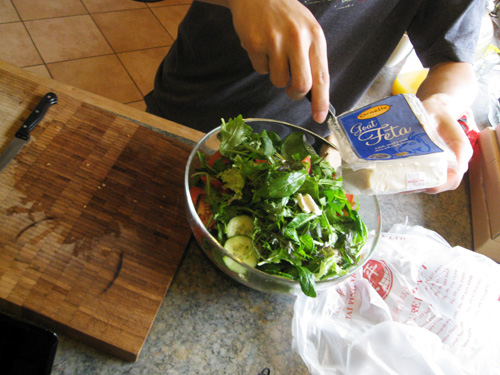 Salad we whipped up. You can't see from this angle, but it was a bloody huge salad.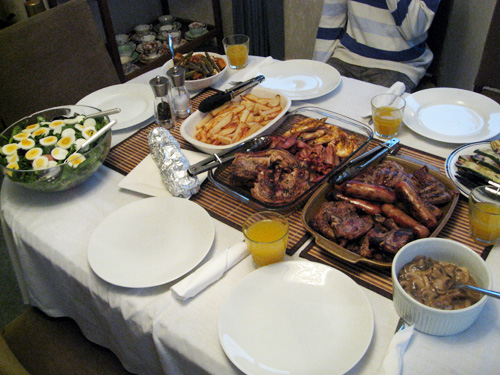 The winners' meal. Grins. A lot of them.
We ended up playing an intense of Monopoly after dinner – the first time I've touched it in years! – which resulted in a lot of haggling and yelling and just utter chaos, really. Good fun.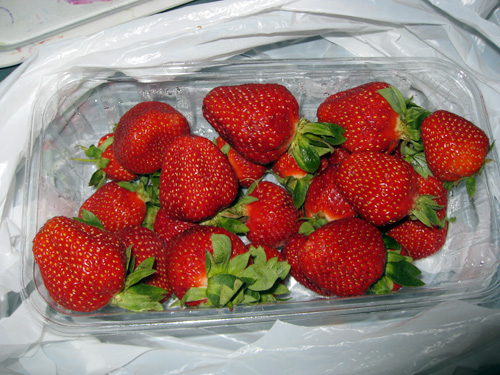 Strawberries mum bought from the strawberry farm out in Clevedon – best in town. Seriously.
There's a lot of stuff on my mind right now but I'm simply too tired to formulate them into words right now. Also, I "finished" my painting from the other day. And by that I mean I've run out of ideas of what else to add on top of it – photos soon. Another thing that's possibly coming soon is a "jewelry I wear" post, because someone requested it on formspring. I don't know if/when I'll get around to this though, because it kind of seems a little narcissistic and showy?
Category: Food, General, Hockey, Photography, Social, Sports 7 comments »