I've fallen asleep in so many places in the past week that I haven't really been home/online/at my desk, thus the slack amount of blogging. I desperately need some form of decent daily routine to up my productiveness, but the calls of partying is just too loud as the end of summer grows closer in sight. This past week has been quite a whirlwind for me, reconnecting with old ties, severing some recent ones and meeting new people all at the same time. I'm definitely guilty of biting off more than I can chew all the time – starting up more projects than I can physically juggle, and keeping up a sort of rotation-like social life. On one hand, I really enjoy it. I thrive off the copious amount of choices I have with anything from what music I want to listen to/play/write, to who I want to see/chat/dance/drink with, to what I want to be reading and writing in bed, before I sleep.
I had a cold a week ago, largely from Big Day Out, being cold, drenched and tired, and then partying too hard. When it finally eased up a couple of days ago though, what did I do? Drank too much and slept too little again. Aka partied too hard. That, and the storm that New Zealand's been hit with hasn't really helped the chances of my immune system with keeping up with me. It looks to be a relatively tame Saturday night tonight, but I think my Wednes, Thurs and Friday nights have made up for it, haha.
The other day I caved and bought these killer shoes for half price. Although, having said that, half price was still fucking expensive. They are ridiculously comfortable though (took them out for 5 hours of dancing, standing and walking around to test drive them that very night, haha), and has resulted in me listing a pile of shoes that I don't wear on Trademe.co.nz. I'm also currently selling a Sufjan Stevens ticket (Wellington), dress and various shoes. Click here for my listings

.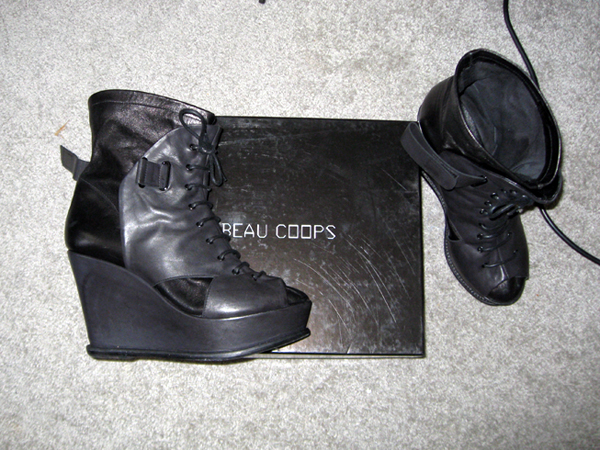 These bad boys make me veeery, very tall. I'm 5'7″ to start with… the platform itself is 1.5″ and then a 4″ heel wedge…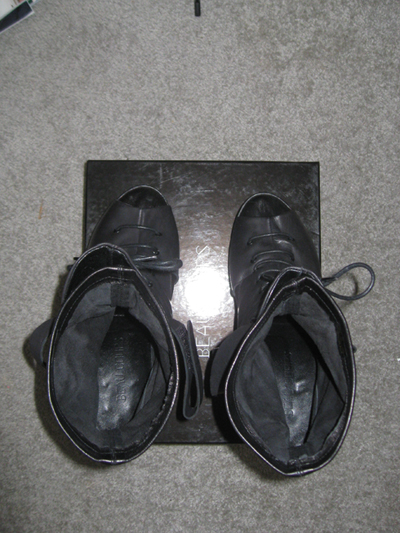 Mum didn't say much (guilt, guilt, guilt about retail therapy, but I'm happy with them, haha), except that she looooves the leather. So soft and amazing.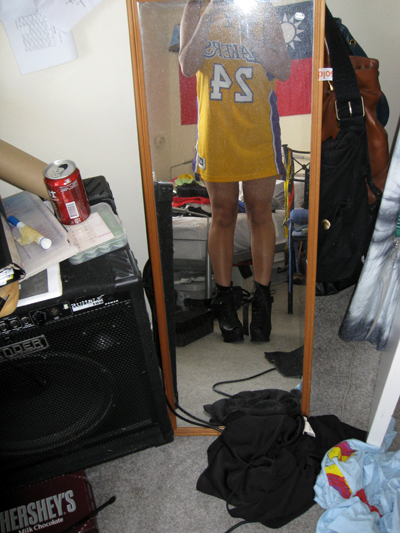 So uhh, I don't know how my legs ended up looking this tanned in the photo, haha. Very messy room though, am tidying out my wardrobe – dirty laundry on the floor, etc. Typical Amanda.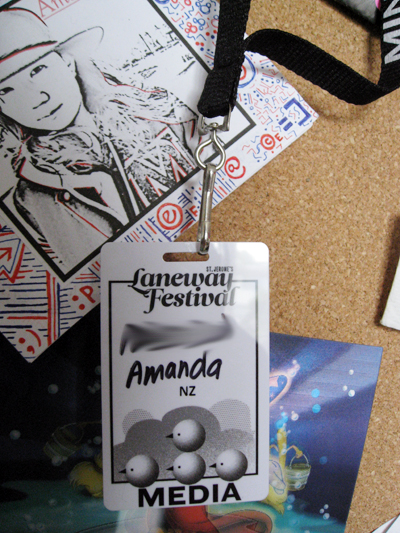 Aaaaand I've finally gotten my Laneway Festival Media Pass. Just smudged out my media outlet's name until I have the photos and write up to link to.
This track – listen to it. I am so hooked it's not funny. It's a mash up of The Strokes' "Hard To Explain" and Christina Aguilera's "Genie In A Bottle". Asides from being pure genius, they happen to be two of my fave tracks – "Hard To Explain" was the first Strokes song I ever heard, and they've been one of my favourite bands ever since, so there we have it.
Conversations from Wednesday and last night have really got me thinking about the chronology of my music tastes. I get really flustered whenever people ask me "what music to you like/listen to?". Because I honestly listen to such a wide variety that I don't even know where to begin to describe what my tastes are. I know it seems really superficial, but being the music freak that I am, I really do feel that these days, to a lot of people, what music someone is into makes a big enough difference on the impression they leave – akin to that of a first, visual impression. I can't be bothered analysing my own musical etymology right now, but put it this way, within the two past weeks I have: gone crazy on a one-woman-dance-rampage over Ratatat + relived the nostalgia of my youth in the Deftones moshpit + creamed myself (awful expression, I know) over Rammstein's set and pyrotechnics from the 2nd row at BDO + gone clubbing at places where "everyone goes" and they play supposedly the "most popular" tracks + had a blast to Tidball's set at Cassette 9 + spent the rest of that evening listening to pop favourites from the past decade with friends (think Britney Spears, Blue, Christina Aguilera, Back Street Boys, Liberty X, Mis-Teeq sort of stuff)… not to mention, in the next two weeks I will see an array of bands at Laneway Festival that are more akin to recent music tastes + go to see Rusko + be at Sufjan Stevens' concert in Wellington… I would also love to see Queens of the Stone Age again, but I can't really bring myself to fish out $85 ish in my current state of unemployment.
Don't even mention it – I've been looking and applying for jobs. And I know that I'm picky, because I want to keep whatever job I get as a part-time thing for the next two years, like I did with my last job – so I don't want to hate whatever it is!
Category: Audience, Cassette 9, Concert, Consumerism, Emotions, Fashion/Style, General, Health, Males, Media/Published, Music, Photography, Reflections, Social, Travel, Work 14 comments »